Japanese Cartoon Anime Biography
Source (Google.com.pk)
My love affair with Japanese animation began in the late nineties, around the time I entered high school. I owe my entrance into the world of anime to my older brother, who introduced me to Dragon Ball Z. I was reluctant to join in the fandom at first, as I was somewhat averse to the idea of watching "cartoons" at that age, but I couldn't resist the excitement the show evidently evoked in my brothers. The series hooked me immediately. When we exhausted what was airing on television, my brother started ordering the tapes of later episodes, and when each one arrived, we would dim the lights and satisfy our uncontrollable anticipation.
This was not some lame cartoon, it was *awesome*. But my hunger had merely been awakened, and I looked for more of these strangely good Japanese shows. There wasn't a whole lot available on TV, but what there was, I made the most of. I started watching Sailor Moon - which I was at first embarrassed by, it supposedly being a "girly" show (though the promise of schoolgirls in high heels and short skirts assured my daily position in front of that TV). I sought out the mysterious Saturday late night anime slot on the Sci-Fi channel - which exposed me to a smorgasbord of various random and little known titles - including giving me my very first introduction to Record of Lodoss War (in which I found my first major anime crush, in the form of prototypical elfgirl Deedlit <3). And a little bit later on, I watched with great interest as Gundam Wing aired uncut on Toonami's Midnight Run.
In addition to the television, I realized that my local Suncoast video store was a great (if expensive) source of anime. Given the opportunity, for once, to see these intriguing Japanese shows in their original language, I became a natural "sub" fan - a position only solidified by the glaring differences between the English and Japanese versions of my first and at-that-time favorite series, Dragon Ball Z. Buying tapes of unfamiliar shows was a gamble, but among the series I "won" on there was Serial Experiments Lain, which impressed me with its technologically intellectual philosophy, and Neon Genesis Evangelion, which completely blew me away psychologically (and became my new favorite series). I was, by this point, fully convinced of anime's exalted position above that of being simply "Japanese cartoons" - that the medium was, truly, an art form.
Eventually, and probably also due to my DBZ fandom, I entered the world of fansubs. This was back in the day when you had to pay a small fee to have copied VHS tapes actually shipped to your home. And it was *still* worth it in order to see series in Japanese that were either not available in America, or that required outside methods to bypass the unfair censoring often going on. One of the series I really got into through the fansub venue was Love Hina, confirming my enduring interest in 2D girls. (Eh-heh...)
My first anime convention was actually a local comics convention, that featured a little anime on the side - but it was still very exciting. Cosplay wasn't as huge back then, and there was a lot more "unofficial" merchandise, something that I miss at today's larger and more organized cons. I picked up a ton of mini-posters and a few choice wall scrolls to decorate my room, so as to have a proper shrine for my activities. The con wasn't much, but for inexperienced me, it was fun going each year. But I had to stop going when I left for college, at which point I entered into the second stage of my fandom.
Japanese Cartoon Anime
Japanese Cartoon Anime
Japanese Cartoon Anime
Japanese Cartoon Anime
Japanese Cartoon Anime
Japanese Cartoon Anime
Japanese Cartoon Anime
Japanese Cartoon Anime
Japanese Cartoon Anime
Japanese Cartoon Anime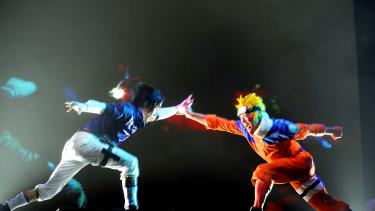 Japanese Cartoon Anime